GTWN/MWC Welcome Cocktail 2013 Sponsored by NEXTEL MEXICO A Virtual Tour with Photos and the Rap!
26 February 2013, Mobile World Congress, Barcelona
With the Circulo del Liceo lit up as if it were an Opera premiere, the GTWN Welcome Cocktail guests streamed in from around Barcelona-fighting the traffic (at least one good thing about having a virtual cocktail!), navigating the metro, and braving the unseasonably cold weather, to attend the event.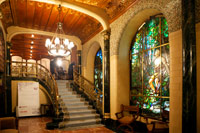 When they arrived, they were warmly greeted by the GTWN International Board Members and our partner hosts for the evening, mWomen, Connected Women, the GSMA and WiTT in the gorgeous entrance hall beneath the glass-covered Art Deco dome before being whisked upstairs to Champagne and Canapes before our impressive GTWN Forum began at 8:00 p.m.
Unbeknownst to many, also on the first floor of the Circulo del Liceo was a "secret room" of mural paintings from the 19th century, no pictures are allowed (one of the bad things about having a virtual cocktail!) so you had to be there to see them! And finally at the end of the evening, all present received a free copy of Informilo, featuring Executive Women speakers at the Mobile World Congress, which we have been able to include here for you as well, courtesy of Jennifer Shenker, CEO of Informilo.
The GTWN Welcome Cocktail was also the occasion for our GTWN Secretary General Vicki MacLeod to introduce her research paper presented at the Connected Women event the next day at the GSMA on the Implications for the Mobile Sector of the link between ICT skills, Women and Productivity (download here).
GTWN Forum:
GTWN Regional Presidents Myla Villanueva (Asia Pacific), Michele Merrell (USA), and Ingrid Silver (Europe) kicked offthe GTWN Forum and Discussion highlighting the Women Executives speaking at the Mobile World Congress – an increase of 15-fold from last year and a true result of efforts by the GTWN in collaboration with the GSMA.
Anne Bouverot, GSMA Board Member and CEO, gave an overview of the three most important trends at the Congress – NFC, the Connected City (carrying on from the Connected Home last year) and the continued growth of Mobile, now affecting every life and every corner on the planet. She also cited the progress in open Mobile Internet browsers by, among others, Mozilla and the launch of Q-Tel's new re-branding, Ooredoo which she had just attended. Ooredoo means "I want" in Arabic and Q-Tel has chosen this name and re-branding to focus on Consumer's desires in every part of the world.
Anne also made three points about women. She noted with satisfaction the creation of Connected Women and thanked GTWN and WiTT for their role in incubating it. She highlighted the development of mWomen, which has now become a global force (see below). Finally, she shared with the group her desire to have even more high-level Women speakers at the MWC and asked all present to continue to urge executive women to apply to give speeches.
Susan Whiting, Vice-Chair Nielsen, MWC Keynote Speaker
Nielsen Vice Chair Susan Whiting delivered a keynote speech on "Mobile in Media" and examined some of the disruptions taking place around content consumption at the GTWN Welcome Cocktail. "The most successful mobile content is action-driven—it performs a task and delivers a clear outcome that satisfies a demand. Think about some of the most widely used apps. Each one solves a problem. Google Maps, Facebook's mobile app, YouTube's app are all popular because they deliver on a need."
"Mobile social media networking is, without a doubt, growing on a global basis. And mobile social chatter"with its unrivaled publishing speed and reach"is affecting other media platforms as well. Conversations around TV shows, for example, can have a real-time impact on the success of those shows. There is particularly heavy use of social media during television viewing by people 18 to 24 years old. The way we think about this, and it was discussed in the session here in Barcelona, is that mobile has the ability to amplify conversations taking place, no matter what the topic. We think that presents terrific opportunity."
Peggy Johnson, President Global Developments Qualcomm: Peggy Johnson, EVP and president of global market development at Qualcomm, first shared a personal point of view with the group saying how happy she was that today Mobile technology was being used for Health, for Education, for banking, for relieving poverty.
Her speech at the MWC focused on the emerging mobile economy and society is one that is "powered by micro-entrepreneurs who use a single mobile phone to connect their villages in Indonesia to the world or who, by using a wireless financial transaction network, enable instantaneous and secure financial transactions in Kenya. From a technical point of view she pointed out that "there will also be much more contextual awareness for apps and devices thanks to a blend of technologies, from indoor location positioning and augmented reality to the "internet of everything", as more things in the physical world around us become connected by wireless technology."
Ann Mei Chang, Senior Advisor for Women and Technology, US State Department: Ann Mei presented two subjects in her speech, which had to be virtual since she was under the weather. The first topic was the Women and the Web report, released by Intel and Dalberg in January, which identified a 23% gender gap in Internet access in low-to-medium income countries. The gap is particularly wide in sub-Saharan Africa, where almost twice as many men have access to the Internet as women, leaving women at a significant disadvantage with less access to information, education, business opportunities, and productivity tools.
Ann Mei's second topic was the mWomen Design Challenge winners, which were announced at the mWomen Seminar at MWC. It challenged designers to envision a user interface for smart phones, which would better address the needs of women with limited resources and literacy. The winning submission leveraged visually appealing icons, clear indications of power and minutes/data usage, and innovative features such as restricted usage when lending the phone (see more below under Sarah Crampsie's report on mWomen).
Janice Hughes, Chair and Founder Redshift Strategy spoke at the Mobile World Congress about "The Future of the Home – the Battle for the Consumer."
"Never before has quite so much equipment and processing power been crowded into the living room. We now have a mass of local and global ecosystems vying for the viewers share of mind and share of wallet. The winners will be those who can delight the users in a simple and effective way. The very biggest mobile operators will be able to create their own powerful ecosystems such as China Mobile has done with its 700m customer base. But the smaller players will have to define their world around the global OS players and be clever in the way the way they select and offer enabling services such as personalisation and using the mobile as a universal remote control for the fifteen or more chips and sensors in the home. The mobile operators will have to be agile, innovative and capable of working together amongst themselves and with other partners on launching and promoting new enablers, far better than they have in the past."
Omobola Johnson, the Nigerian Minister for Communication Technology shared with the group her work in two initiatives: Saving One Million Lives Initiative (SOML) is a Health initiative of the Federal Republic of Nigeria (launched by President Goodluck Ebele Jonathan in October 2012) with the objective of scaling up access to essential primary health services and commodities for Nigerian women and children. A key aspect of the initiative is to develop and promote information systems amongst healthcare providers and administrators, and leverage mobile phones in providing information and services that can help to save the lives of women and children, and improve the quality of life of their families. Mobile phones will be used in ways that empower patients, health workers, and health systems/administrators. Proposals include the use of mobile phones to deliver messages to pregnant woman and mothers of children up to two years old; registration of newborns; disbursement of conditional cash transfers; as well as eLearning initiatives that will complement the accelerate training of 10,000 frontline healthworkers. The initiative also seeks to use ICTs to improve logistics and supply chains.
Ondo State Abiye Programme: The Abiye Safe Motherhood Programme is an initiative of the Ondo State Government (launched by the Governor, Dr Olusegun Mimiko in October 2009). The programme links up (i) pregnant mothers and young children up to age 5 with (ii) health centres or clinics near them and (iii) the Mother and Child Hospital (MCH). Key to these linkage are Health Rangers (specially trained community health extension workers, equipped to take care of pregnant mothers and infants up to age 5); communication tools, and various types of transportation (both mothers and health rangers have access to motorbikes, tricycles and ambulances to facilitate 24 hour services).
As soon as a pregnant woman registers at a clinic she is attached to a team of medical personnel and a doctor and is closely monitored. She is given a mobile phone loaded with credit (funded by the State Government), which allows her to seek and receive accurate and regular medical attention/advice irrespective of where she is located. Health Rangers are also provided with mobile phones located with credit by the State Government. Basic Health Centres, staffed by trained medical professionals, were provided and equiped in villages and remote towns and consumables and drugs needed for normal delivery are supplied to these centers. Comprehensive health centres have also been established in major towns to handle serious cases. Whilst the Mother and Child Hospital (located in the State capital, Akure) is equipped to deal with more complicated cases, the MCH caters to expectant mothers/mothers and children up to the age of five, inclusive of surgeries where needed, free of charge.
The programme is widely reported as being a success; as of June 12, 2011, 15 months into the programme, 26,150 patients had been treated and 5,879 babies had been safely delivered, 905 by Caesarian Sections. This is significant given that World Bank Health Indices in 2008 placed Ondo State at the top of its list of States with the highest maternal deaths South West Nigeria.
Sarah Crampsie, Programme Manager of the GSMA mWomen program
Sarah had prepared an update on this important GSMA program, which is now being given virtually. Sarah advised that GSMA, with partners Qtel Group, USAID and AusAID, had announced the winners of the GSMA mWomen Design Challenge, which aims to redefine the smartphone user experience for resource-poor women in developing countries. The Grand Prize of $20,000 USD was awarded to Jeremy Canfield, Sarah Fathallah and Angel Kittiyachavalit for their design, 'Sahel Shake', while runner up, with a prize of $10,000 USD, was Aloke Pillai of the York Sheridan Design Program for 'mpower'. The Emerging Talent Prize of $10,000 USD, which is reserved for an entry from emerging markets to ensure entrepreneurs are able to compete alongside professional design firms, was awarded to Raphael Mutiso, from Kenya for his entry 'Simplified Grayscale Power Efficient Interface'.
Sarah confirmed that In emerging markets, feature phones with basic voice and SMS capabilities are currently the standard. However, smart phones are forecast to proliferate in these markets over the next few years, becoming the main way people in developing countries will access information, the Internet and its associated benefits. However, there is a mobile phone gender gap in low to middle-income countries, where 21 per cent fewer women than men have access to this potentially life-enhancing tool. The Design Challenge was also created to simplify the smartphone user interface to help overcome reading and technical literacy barriers to adoption. Twenty-two per cent of women surveyed in Egypt, India, Papua New Guinea and Uganda who do not use mobile phones say it is because they do not know how to use them.
Sarah also reported on a new study released by the GSMA mWomen Programme and Visa Inc. (NYSE:V) entitled, Unlocking the Potential: Women and Mobile Financial Services in Emerging Markets, shows that women in developing countries represent a significant underserved market and commercial opportunity for mobile financial service providers. The study, focused on women in Indonesia, Kenya, Pakistan, Papua New Guinea and Tanzania, was undertaken to gain additional insight into how financial institutions and mobile network operators can better support the complex financial lives of women at the base of the pyramid.
Sarah added that the research clearly shows that women are active contributors to household incomes, and as household financial managers, they are responsible for a variety of transactions such as remittances, payments and money storage and that when women's financial and payment needs are met consistently, they can be very loyal customers. Furthermore, their role as primary recipients of government-to-person payments means that providers who serve women, may be better positioned to provide solutions for the emerging wave of payments in the future.
Laureen Cook, Principal Global TMT Advisor of IFC (World Bank): The "High Growth Mobile Tech Investments; from Start-up through to IPO" session, moderated by Laureen Cook, Principal TMT Advisor, IFC (Worldbank), was a well attended by approximately 100 people. The audience stayed throughout the entire 1 1/2 hour session, confirming the need in Mobile to better understand the various aspects required to finance future growth and development! The panelists were all stellar, representing a variety of perspectives from within the Mobile Investment Community. The panelists included; Timothy Lee of Sequoia Capital (VC), Jon Bradford, Co-founder of Springboard (Accelerator), Sean Park, Founder Anthemis (Accelerator), Barak Ben-Avinoam, Managing Partner, Fast Lane Ventures (VC), Tracy Isacke, Director Investments & Business Development, Telefonica Digital (MNO), John Malloy, General Partner & Co-founder, Blue Run Ventures (VC), and Robert Jackman, Executive Chairman & CEO, ooVoo (Incubator).
The session was broken down into three relevant themes of interest; Evolution of the Ecosystem, The Influence that Incubation, Acceleration and VC's Play in the Advancement of Mobile Applications, and The Relevance of Venture Capital and M&A activity in 4G and Beyond. In the evolution of the Ecosystem, we discussed the relevance of apps and revenue-generating business models going forward, along with competition and collaboration, security, speed, and the experience required to bring new products and services through to fruition. Regarding the Influence of Incubation, Acceleration and VC's, we discussed the the need to triage ideation early on, the ability to scale new products, timing and the monetization of new services. In the Venture Capital & M&A session, we discussed the relevance of Silicon Valley going forward, verses the rise of new international centers of excellence and interests, such as the BRIC countries; Brazil, Russia, India, and China. While the panel agreed that the focus of innovation would shift to address the needs of Developing Markets due to necessity and growing subscriber numbers, the panel also agreed that Silicon Valley would remain the flagship for entrepreneurship worldwide for many years to come. In terms of key applications of interest to the financial community in Mobile, services around business and financial productivity, the simplified user experience, time management and collaborative working applications surfaced as being the most relevant.
Gabrielle Gauthey, Executive Vice President, Global Government and Public Affairs, Alcatel Lucent says, "the Africa mobile community is the second largest behind Asia, therefore the spectrum, which is the 'new oil' for Africa, must be seen as a short term asset to the treasury with long term revenue potential. Therefore regulators must look at the National Allocation Plan or Broadband Plan, which guides the availability of the spectrum before allocation to operators.
If Governments, she continued, are to address the challenges of limited spectrum and sector-specific taxation, operators must bear in mind that the spectrum is not given to or owned by operators, rather it is a concession leased for a period of time and that it is a national asset".
Mitch Baker, Chair of Mozilla and co-author of the GTWN 20th Anniversary Book was congratulated for the company's groundbreaking presentation of its HTML5 Mobile Browser based on totally open standards and being hailed by one and all as a winner! It has been a long road for Mozilla (spun out of Netscape) to gain universal recognition and we are thrilled for Mitch and wish her and her team all the best!
THANK YOU again to our wonderful sponsor, NEXTEL MEXICO, our "Woman in Barcelona-Victoria Hernandez", and our ever-amazing GTWN Business Manager, Marjorie Salem! And thanks to all of you who came and contributed to making this such a special evening!
Re-live the GTWN Cocktail 2013 online with the Photos! Click Here!
For further information, please contact info@gtwn.org.
Downloads
View the pictures
(To download single images or all the images, click on any photo to enlarge it. Move the cursor over the top left of the image and a menu will appear which will allow you to choose whether to download that single image or all the images in the gallery. The password for downloading when prompted is: gtdsh23)
Download the Informilo Print Magazine
Download the ICT Skills Gap Research