27 February 2017, Mobile World Congress, Barcelona
Former European Commission Vice President and European Union Member of Parliament Viviane Reding received the award at the GTWN 25th Anniversary celebration during Mobile World Congress 2017 in Barcelona. The Lifetime Achievement Award, the first to be bestowed by the GTWN, recognises Viviane Reding's dedication and ground-breaking work in addressing three major challenges for EU citizens' shattering Mobile Roaming Costs and Glass Ceilings for Women on Boards and guaranteeing Data Privacy for EU Citizens.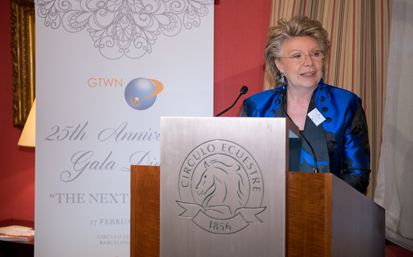 Ms. Reding's vision of a borderless mobile world for Europe will come into effect finally in June of this year, 13 years after she took on the challenge of shattering mobile roaming costs while she was EU Commissioner of Telecommunication, Information and Media. This stance was often very unpopular with mobile operators but consumers cheered her on and finally, this year the GSMA embraced it whole-heartedly with its Chairman, Sunil Bharti Mittal, the billionaire Indian telecoms tycoon, has called calling on the industry to stop fighting attempts by regulators to force down roaming rates and said that mobile companies have created a "disaster" with such high charges.
The award ceremony took place during the GTWN Silver Anniversary celebration in front of senior industry executives from the world over, including GSMA CEO and Board Member Mats Granryd and GSMA Board Member, Christian Salbaing Deputy Chairman of Hutchison Whampoa and representatives from "The Next Generation" which the GTWN has mentored throughout the last 25 years.
In bestowing the award, GTWN Global President Bridget Cosgrave and GTWN Founding President Candace Johnson also underlined the prescience of Ms. Reding for having foreseen data protection for citizens to be enshrined in the European Union constitution, the only constitution in the world to do so and her at the time unpopular use of quotas to gain more gender equality on publicly quoted corporate boards in Europe, thus once again smashing through boundaries and glass ceilings.
For further information, please contact
info@gtwn.org.
viviane.reding@europarl.europa.eu