GTWN/MWC Welcome Cocktail 2014 sponsored by TELSTRA with Co-Sponsors Nextel, Davenport Major Executive Search, and CSPI
Welcome Cocktail 24 February 2014, Mobile World Congress, Barcelona
More than 200 top Government officials, Corporate and Telecoms Executives streamed into the GTWN/MWC Cocktail held at Palau Moxo, the evening of 24 February 2014 to discuss, confer, and project into the future the world of telecoms as it transforms the globe with the most enabling technology in history.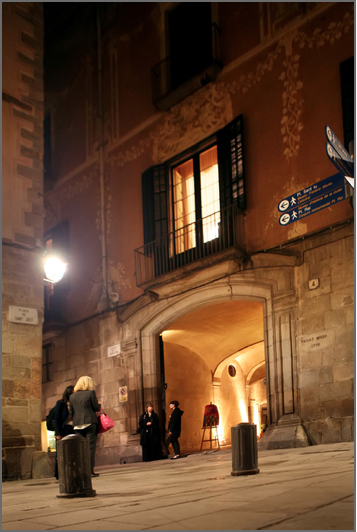 Palau Moxo is Barcelona's only 18th Century palace still in private hands and boasts the largest private collection of Baccarat Crystal in the world. Its magnificent entrance and reception hall with its high ceilings and chandeliers created the perfect setting for the launch of the GTWN's new webzine, "The Mobile Century: Life and Work in the Digital Era" as well as for the Keynote Speeches by European Commission Vice President Viviane Reding, Telstra Chief Operations Officer Kate McKenzie, Chairman NII Holdings (Nextel) Steve Shindler, Mercy Corps Chief Innovation Officer Ann Mei Chang, GTWN Mentoree Esther Bauer and the ensuing remarks and discussions by telecoms experts and visionaries from around the globe.
The GTWN was also particularly pleased to welcome Jin Jong Cai, Executive Vice President and CEO of the IFC together with Cherie Blair, Founder of the Cherie Blair Foundation.
The evening was introduced by GTWN President Bridget Cosgrave, President of Every European Digital as wellas Janice Hughes, GTWN Co-founder and President of Redshift Strategy Ingrid Silver, GTWN President Europe and Partner, Denton's global law firm. On behalf of the GSMA, we were most pleased to have Hyunmi Yang, Chief Strategy Officer welcome everyone on behalf of Anne Bouverot, Board Member and CEO.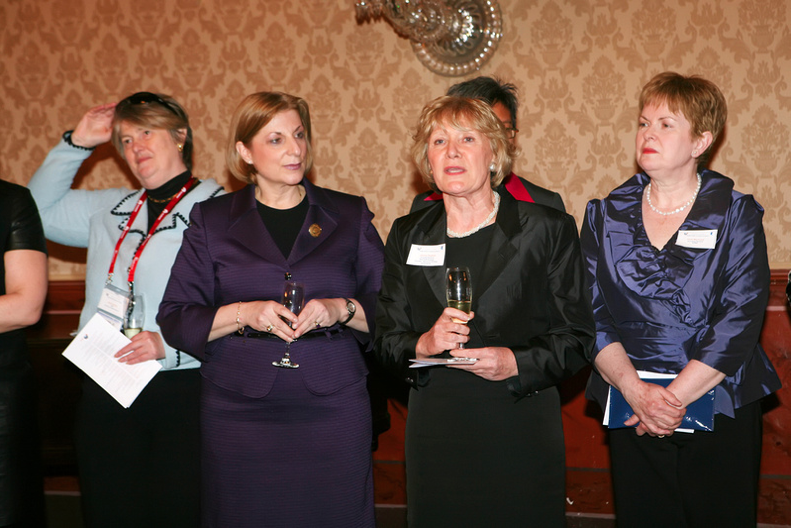 GSMA Chief Strategy Officer, Hyunmi Yang, welcomed GTWN members and special guests on behalf of GSMA CEO Anne Bouverot and the GSMA management team, to the Mobile World Congress, which is the GSMA's most important annual gathering. Hyunmi stressed the importance placed by the GSMA on the association with the GTWN and the appreciation for the assistance that had been given by GTWN Steering Committee members in relation to several of the GSMA initiatives, including mWomen and Connected Women. Hyunmi also welcomed the launch of The Mobile Century webzine, and encouraged everyone to contribute to this new platform for networking and exchange of ideas on the most significant issues facing the mobile industry today.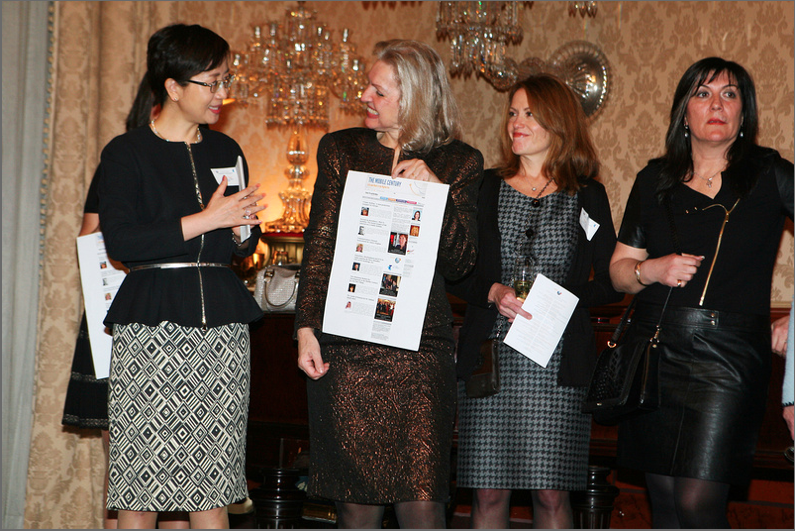 "Challenge to use the Power of Ubiquity": Ingrid Silver, Partner at law firm Dentons,and GTWN President for Europe, recalled that the GTWN had been focussing on future technologies for more than twenty years, and that is was now time to stop talking about the future and start focusing on present. Thanks to the technical evolution we have seen to date, it is possible here and now, today, to access the services we want, when we want, how we want, whether it be on a mobile or a fixed basis. By this she meant not just being able to work remotely or communicate easily, or even be entertained, but also about things like education and health and so on. Not only have we entered a century of mobility, but in fact we are in an age, an era of ubiquity.
Ingrid also invited everyone to think about how they could make the most of this age of ubiquity, not in the future, but here and now. A good way to start this process, she suggested, was to embrace the tradition of the women's networks that have come together tonight, the GTWN, Witt and mWomen, and to start to network with the people around you. Together we can work across different disciplines, different cultures and indeed different generations to make this mobile century, this age of ubiquity, truly exciting and meaningful for all of us.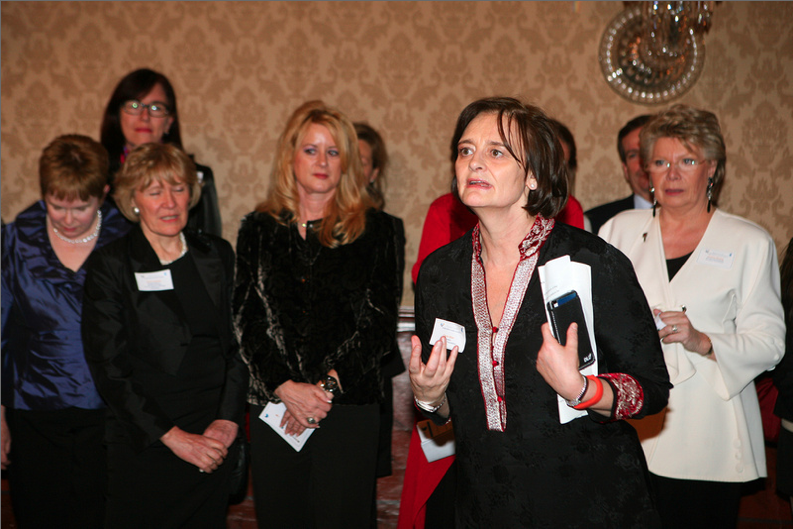 Cherie Blair, Founder of the Cherie Blair Foundation for Women remarked how pleased she was with the success that the GSMA and GTWN had made in using technology to improve the lives of women around the world, but that there was still so much to do. She made an impassioned plea for a quantum leap in the efforts by all present to work even harder to improve the quality of life for women.
"The Challenge of Innovation": Telstra's Chief Operations Officer, Kate McKenzie, who is also GTWN's President for Australia, highlighted the challenges faced by incumbent operators in a rapidly changing world. Telstra had recognised that they must evolve and innovate to survive. Innovation is as much about closing the productivity gap as it is about new revenue opportunities. Kate acknowledged that as corporations get larger, they tend to lose sight of innovation and reinforce past successes and innovate by making incremental changes to existing product to see guaranteed returns. If innovation is key to future success then we need to make it part of our core business and that means matching the right skills to the challenges – less of the traditional mindset and more of the visionary. In this way, incumbents will be ready to catch the innovation wave, as they see new trends and opportunities emerging.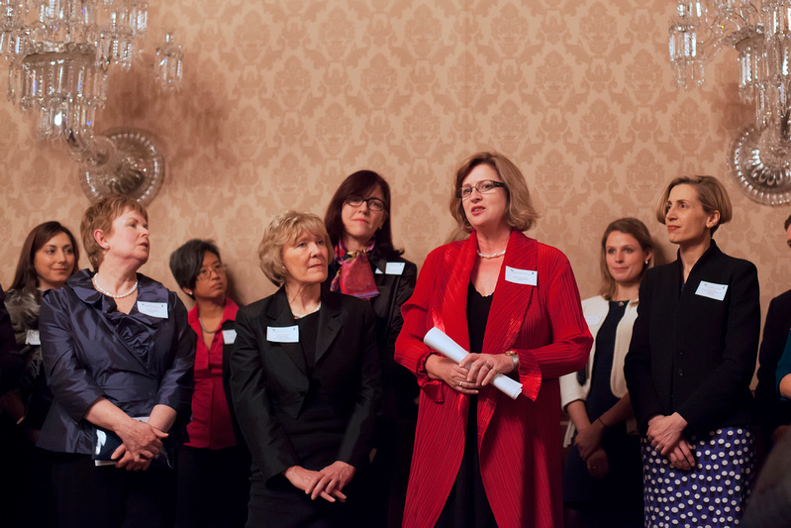 Kate went on to outline Telstra's new start-up incubator, muru-D (a word combining the Aboriginal word for "path or way" and "'D"' for digital. Muru-D is Telstra's first foray into mentoring, acceleration and investment in new digital businesses and provides $40,000 in seed capital for promising young digital entrepreneurs who pass a selection process.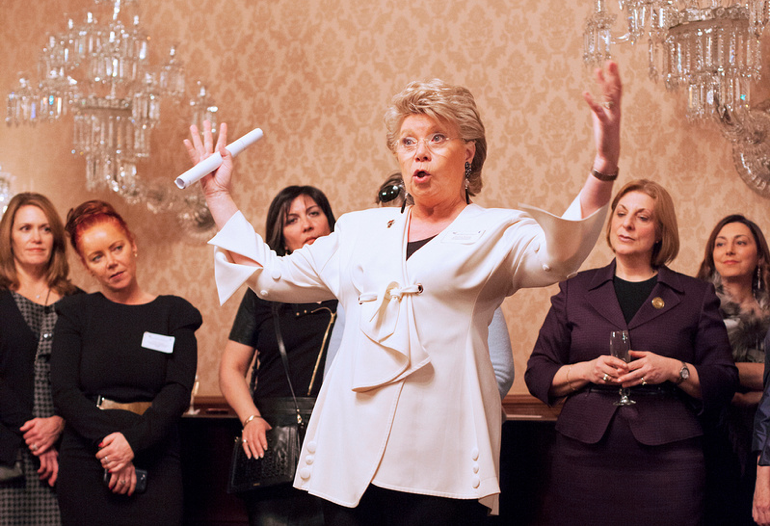 "The Data Compact": European Commission Vice President Viviane Reding gave a landmark speech on data protection and data privacy for all of Europe's citizens. In her remarks, the Vice President emphasized that "trust" was at the foundation of data protection and data privacy.
Not only would "trust" be good for citizens, it would be good for business as their customers and clients must expect and receive "trust" from them. "We want to open new growth opportunities that Europe needs, and at the same time, we want to make data protection an effective right for everybody. We will deliver effective, practicable and future proof data protection rules that enable growth. And I hope I can count on your support, too. To deliver what businesses want. To deliver what citizens want. And to bring European data protection rules into the digital age, " concluded the Vice President.
"Education, Development and ICT's": Steve Shindler, CEO of NII Holdings, Inc laid down the gauntlet to all mobile operators to fulfill their social duties as he highlighted how this could be done with examples of the use of mobile technology in the service of education and development in Latin America.
According to UNESCO's report "The State of Education in Latin America and the Caribbean", on average approximately one third of elementary school students and almost half of secondary students do not appear to have acquired basic skills in reading, while in mathematics the figures are still lower. Against this background, Steve highlighted the wonderful work of Worldfund, an organization with which Nextel has been working to help in delivering world-class training and ongoing support to teachers from undeserved schools in Latin America.
Access to ICTs varies from country to country as well as within countries, above all in those with low-income levels. This creates a digital divide that can be overcome thanks to mobile phones. Mobile phones are increasingly available for lower income sectors and are becoming the basic means for broadband access.
In summary, Steve pointed out that the use of mobile technologies must go hand in hand with efficient management of spectrum and sound broadband policies. Broadband needs to be part of governments' comprehensive development plans and not only a regulatory issue. Governments need to impel policies that acknowledge broadband as a public good, necessary to reduce poverty, inequality and the digital divide. In education, knowledge can be a key factor in transforming teaching at all levels, generating the highly qualified human resources that countries need in order to develop.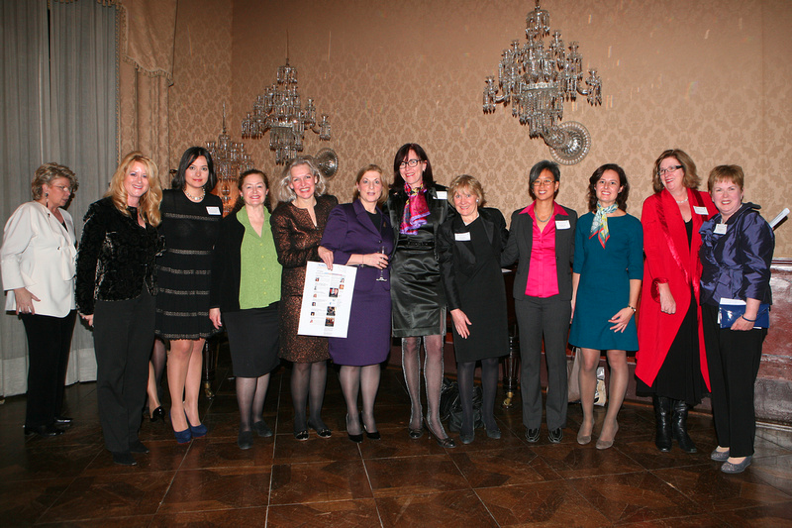 "New Business Models for Development in the Mobile Century": Ann Mei Chang, Chief Innovation Officer of the Mercy Corps shared with the group her voyage from Google Mobile CTO to the State Department to the Mercy Corps, the latter which is creating new business models for development in the Mobile Century. In a fascinating summary of their work, Ann Mei showed how "triple bottom line investing" and "social entrepreneurship" really can bring about value, knowledge and wealth creation in a sustainable way or all.
"A Cross Border Roaming Model": In the 22 year GTWN tradition of highlighting the "Next Generation", we were thrilled to welcome as our last speaker, Esther Bauer from Luxembourg who presented a Cross-Border Roaming Model between the BeNeLux countries.
THANK YOU again to our wonderful sponsor, TELSTRA and our co-sponsors Davenport Major Executive Search, NII Nextel, and CSPI for having made this launch event for "The Mobile Century: Life and Work in the Digital Era" and the landmark speech by European Commission Vice President Viviane Reding, together with all of the speakers and ensuing discussion be such a great milestone in furthering the quality and access of digital communications for the world.
For further information, please contact info@gtwn.org.
Download
The Mobile Century Webzine (pdf version)
View the pictures
password: hsgdtw
The Programme
cover page
inner page