GTWN Welcome Reception
Monday 24 Feb. 2020 6:30 pm at MWC Barcelona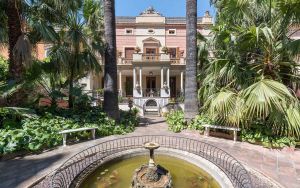 Time & Date:
6:30 p.m., Networking Cocktail. Monday, 24 February 2020 on the occasion of Mobile World Congress in Barcelona, Spain 6:30 p.m.

Where:

Fundación Rocamora, Ballester, 12, 08023Barcelona, Spain
Attire:
Business Suit/Cocktail Dress
Dear GTWN Networker, Friend, and Colleague,
It is with great pleasure that we would like to invite you to our traditional Global Telecom Women's Network (GTWN) Welcome Reception during Mobile World Congress on Monday 24 February 2020, commencing at 6:30 p.m., at the Fundación Rocamora, Ballester, 12, 08023 Barcelona, Spain.  We are delighted to welcome SINCH, http://www.sinch.com as our Gold Sponsor for this year's edition.  SINCH is helping all of us engage the world personally with SMS.
The theme for the evening, which will also be the topic for our latest edition of the GTWN magazine The Mobile Century, will be "The Green Tech Revolution: How communications technology can foster a sustainable, low carbon future."  During the evening, our expert speakers and TMC authors will address how Mobile and ICT have the potential to efficiently reduce greenhouse gas (GHG) emissions and effectively decouple economic growth from emissions growth.  The GTWN is also pleased to welcome EBAN, European's Business Angel Network as well as their Spanish Members as our Bronze Sponsor and partners for the evening.
In addition, the GTWN will be celebrating the first decade of the GSMA Connected Women and corresponding Women4Tech and mWomen programs.  The GTWN was privileged to be involved at the very inception of the GSMA Connected Women and for the past 28 years,  GTWN members have been thought leaders on the possibilities and opportunities brought about by the Mobile and ICT technologies reflecting our slogan, "The Changing Culture of Communications…from Generation to Generation".
The presentations will be followed by a tapas style buffet served at 8 p.m. where networking and collaboration amongst our members and special guests will continue until event closure at 9:00 pm.
In addition, following the GTWN's role in supporting the GSMA mWomen and Connected Women programs, we are delighted to once again support and participate in the GSMA's Women4Tech program, with special thanks to the GSMA North America Women4Tech group.
We look forward to welcoming you and thank you for your reply by 10 February 2020.
Thank you for using the RSVP FORM below to confirm. You may also contact us through info@gtwn.org or through Marge Salem, our GTWN Managing Director at marge.salem@gmail.com
**This invitation is a personal invitation to you, as our special colleague and friend. As is the GTWN tradition, we would also ask you to please let us know if you will be bringing one mentoree with you – your best and brightest young woman executive – to help make the 2020 GTWN Welcome Reception a great success.
Thank you for using the RSVP form below.
We look forward to welcoming you in Barcelona.